The Curious Case of Benjamin Button – That's a great name for a film. Or a short  story. I haven't read the short story by F. Scott Fitzgerald, but I'm sure it's very good.
Although perhaps not like many of David Fincher's films, somehow the looks of the film is very much like many of his other films. Interestingly, the cinematography of Benjamin Button is by Claudio Miranda, who's not shot Fincher's previous films, but done the lighting on many of them. So that could explain why the cinematography is different but somehow looks similar.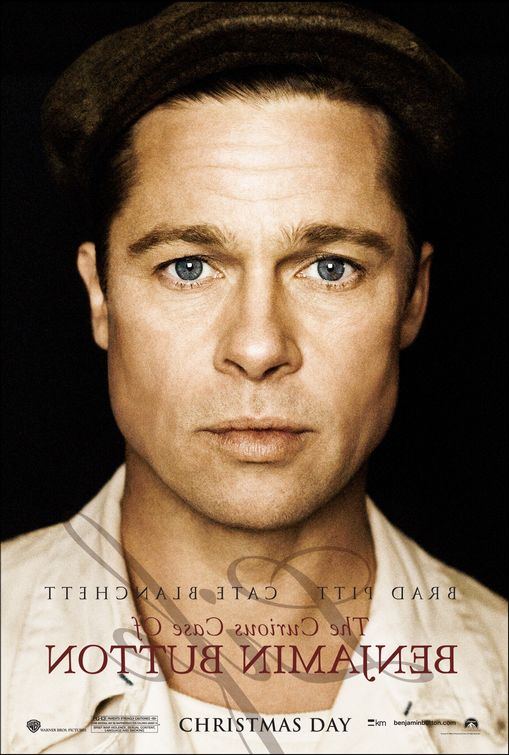 Cinematography is Beautiful, Cate Blanchett and Brad Pitt (and the rest of the Benjamin actors) do an amazing job throughout, and probably the make up and special effects departments have created most amazing realistic effects for the film. Taraji P. Henson who plays Queenie must be one of my favourite actresses in the film.  And I was a little bit surprised to see Tilda Swinton in the film as well.
Any make up used, or 3D effects, or 3D camera systems used have worked perfectly for the film and it is amazing to watch how the passing on time shows on the cast's faces.
I still cannot believe this movie has collected almost all the nominations possible for all possible awards. 13 Academy Awards nominations is quite an achievement, I think. And it is a good film. Maybe just the kind to get a load of Academy Awards. I didn't think it's anywhere near Fincher's best film though. But perhaps this film is the kind to attract huge mainstream audiences and still prove to be a decent film and not just pointless waste of time. And let's not forget Fincher's not even directed that many films. Still, I'd say I'd easily prefer watching Fight Club or Se7en again rather then this Curious Case of  some Button.
If you haven't seen it yet, you might also want to see Forrest Gump, another film written by Eric Roth. Forrest Gump seems to follow similar structure to Benjamin Button, for better or worse. Not surprising maybe, and to me it wasn't obvious either, but I guess you could watch them both to compare. Or skip both and watch something else. But Benjamin Button is beautifully cinematographed.