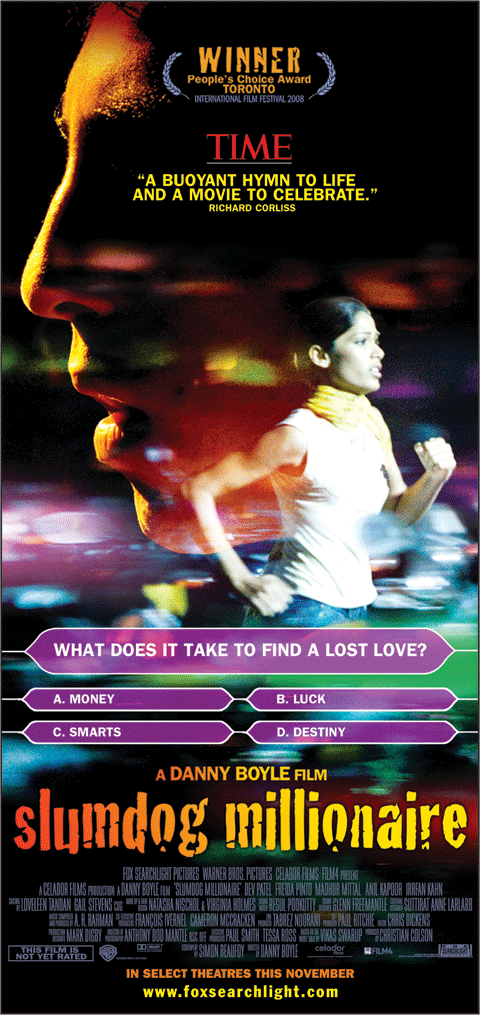 They say it's the feel good movie of the year… I'm not sure I felt that good at the end. I certainly felt happier after Hairspray. I couldn't stop smiling watching that one. But Slumdog Millionaire is by far the best film I've seen all year. Mind you, it's 11th of January…
If you know what films Danny has done before, you know you can expect something worth your while. And he's really done it well this time, he's not going to disappoint anyone. Brilliant cast, brilliant colorful imagery, great camera work and amazing locations. Slumdog is packed with emotions, it's truly like a rollercoaster ride. Very early on in the film, there's a scene that wakes everyone in the audience up, just about everyone can be heard sharing their emotions audibly – and I don't mean just laughing out loud like when watching a decent comedy. And that doesn't happen in a lot of movies. At some point the structure of the film reminded me of Bryan Singer's The Usual Suspect. And while Jamal Malik may be just that, this film goes a bit further than that I think.
The plot and the story structure are quite clever, there's constant tension and suspense. Enough said, go see for yourself.